DELIVERY
COVID-19: PLEASE KINDLY TAKE NOTE WE ARE MAKING CONTACTLESS DELIVERIES AND THERE ARE SPECIAL INSTRUCTIONS IN THIS PAGE TO FOLLOW.

In order to serve our customers during this public health emergency, we are limiting sales from our website to local delivery (drop on porch) or pick-up at the store.

Our home delivery service is available in the area defined below.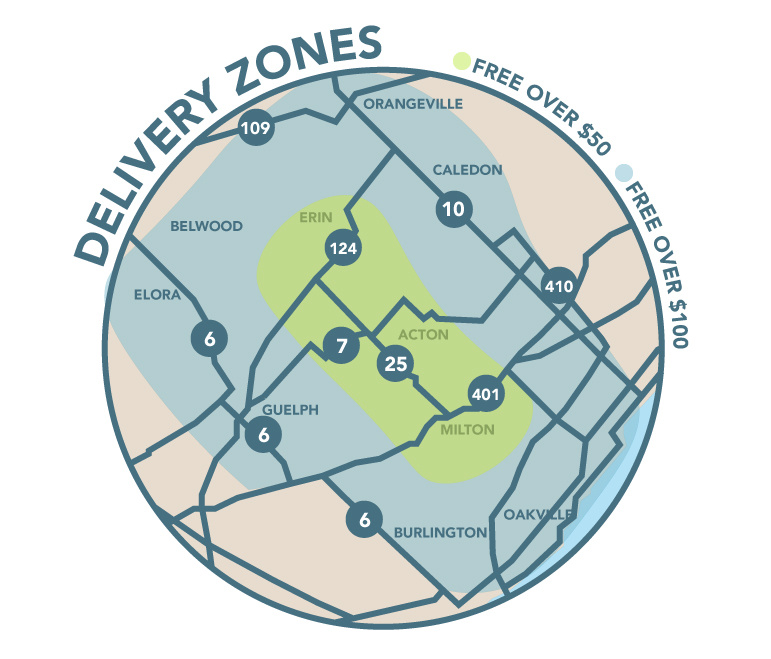 At this time, we are making deliveries daily to this area and will notify you when to expect your order. Generally, orders will be delivered within two days. 




How to Order for Delivery
Place an online order and select your delivery area shipping option.
Include any delivery instructions or order comments in your order notes such as buzzer number, preferred location to leave your order etc.
You will receive an email confirmation of your online order.
We will email you with a delivery time. Please respond in a timely fashion, if we do not hear from you, we will assume the time is acceptable.
You will receive another email notifying you that your order is out for delivery.
Your final email will confirm that your order has been delivered.


To make delivery of your orders, we do request that your delivery address meet the following requirements:
We strongly encourage customers to be home at the time of delivery. 

If no one will be home to receive your order:
If there is raw food in your order, BauHound Haus is not responsible for raw food that thaws because it is left for too long. Please put a cooler, large enough for your order, in a secure location and notify us of that location in the comments of your order.
If your order does not contain raw food, a box containing your order will be left in the location specified in your order (use the notes field upon check out). Large food bags will not be in a box.

PICK UPS:

At this time all Pick-ups will be contact-less. Orders will be left on the porch or can be dropped in your trunk. Please call us 905-878-5550 or email to let us know when you are on your way to pick up. You must be able to pick up your order on the same day as it is ordered.

Current Limited Pickup Hours:
Monday to Friday 10-6
Saturday and Sunday 12-5

RETURNS:

Due to the COVID-19 Crisis, we cannot accept returns at this time. If you have something you would like to return please give us a call, so we can put a note on your file regarding the item. Once the crisis is over, we will be in touch to arrange the return.